Login
to view all events.
Hatha Yoga with Bala
location_on Joy Community
access_time Every Thu @ 07:30 AM from Oct 14
visibility In unpublished state, edit event to publish.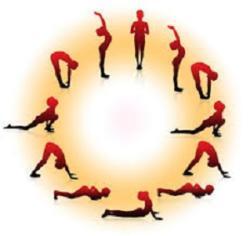 Hatha Yoga with Bala

Every Tuesday 4 to 5:15 pm, Wednesday and Friday 8:15 to 9:30 am
in Serendipity (Ex Joy GH, opposite Center GH)
Yoga is a life style which allows us to balance our physical and mental health. In our yoga class we will concentrate on Asanas, Pranayama and Meditation. These morning classes will be dynamic and we will use the principles of Hatha and Vinyasa practices, concentrating on movement and flow. Instead, the evening class will be more restorative and relaxed, based on Sivananda style Hatha Yoga. However, every class is organic and the structure of the session will evolve depending on the group of practitioners in that particular class. We will strengthen & relax each and every part of our body: mainly core, hips etc. T
hese classes do not require advance registration (
drop-in
) and they are suitable for
beginner to intermediate level
students. The cost is Rs. 300 for guests, we offer a 50 % discount for Auroville volounteers, Aurovilians & Auroville New Comers. If you need more information, you can contact directly
Bala (+91 9892699804)
or write to
serendipity@auroville.org.in
. For more information about accommodation, activities, therapies and events in Joy Community, you can visit our
website
or
facebook
page.

About Bala

Balaganesh Sivaprakasam, shortly Bala, born in a village close to Auroville, Pondicherry, India. I had my first experience of yoga while I was living in Amsterdam. After my return to India & practicing with wonderful teachers in various styles like Sivananda style of classical Hatha, Ashtanga Vinyasa, Vinyasa flow and Pranavaishya yoga for many years, I started to teach yoga in India and abroad. I am the founder of Bala yoga school, which specializes in organizing teacher training courses in India and abroad. Bala Yoga School is one of the few schools in south India that has accreditation for conducting 200 hrs & 300 Hrs Yoga TTC in South India from Yoga Alliance. I volunteer in a few projects in Auroville,where the opportunities arise organically and in spare time run a small NGO for the care of street dog's sterilization & vaccination. I am learning Kerala martial art form Kalaripayatu. Wim Hoff breathing & ice baths are my latest passion which I am experimenting on myself & also offer classes for others for their muscle recovery & long term health. I firmly believe that everyone should take care of their physical and mental health, as it is the best gift we can give to our friends and family . I like to be a change maker as I have experiences in contrasting and diverse fields , bridging people to their heath & fitness goals.
Organizing Group: Joy Community
Phone: +91 9892699804
Email: serendipity@auroville.org.in