Login
to view all events.
BARABBAS by Richard France
location_on Cripa hall, Kalabumi
access_time Every Fri, Sat @ 07:30 PM from Oct 11
visibility Published for Public
location_on Physical Event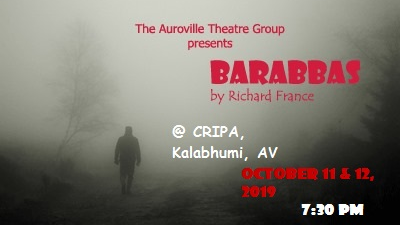 The Auroville Theatre Group
presents


BARABBAS

by Richard France

Who was BARABBAS?


A thief and a murderer, a patriot and a revolutionary, a foul mouthed, insensitive brute or a strong, courageous freedom fighter?
Set at the time of Jesus, a crisis of conscience and faith pursues Barabbas, the prisoner who was freed when Jesus was chosen to be crucified. This is the story of what happens after Barabbas gains his freedom, but battles with his inner voice. Many questions arise: Why him and not me? How do we win our freedom, through armed struggle or through non-violent resistance? Am I a sinner or am I innocent? Who can judge me?
Join us for
#BARABBAS
by
#RichardFrance

At
#Cripa
,
#Kalabhumi
,
#Auroville
Date: October 11 and 12, 2019
Time: 7:30 - 9:30 pm
With Aiman Zahabi, Najeeb TP, Rupam Missra, Anadi Sharma, Abhishek Malik, Sakina Ayaz
Original music composed by Hartmut von Lieres
Lighting design by Sugumar Shanmugam
Set design by Swar Weinberger, N. Thanajayan and Abhishek Malik
Sound/Music tech by Nishant Saini
Projection tech by Umaer Ahrar
Stage Manager: Nishant Saini
Directed by Jill Navarre
Admission is Free.


Organizing Group: Auroville Theatre Group
Phone: 09486416173
Email: jill.navarre@gmail.com