Login
to view all events.
Birthing the New Humanity - (Oct 23-25) A 3 day conversation with Drs. François and Julie Gerland
location_on Center Guest House
access_time Oct 23, Wed @ 09:00 AM
visibility Published for Public
location_on Physical Event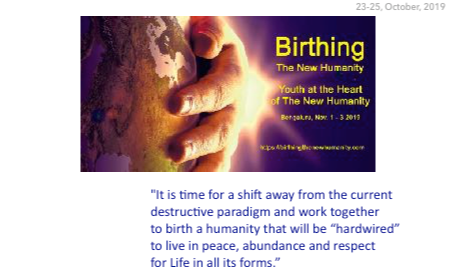 As the city of dawn, Auroville is a place in the world that is birthing a new humanity. We are very fortunate to have Julie and Francois visiting Auroville again in October, 2019. They are the founders of Birthing the New Humanity International Conferences (https://www.birthingthenewhumanity.com/) and pioneers in consciousness surrounding pregnancy, birth and early childhood. They will share their lifelong passion of integrating mind, body and Spirit. We will talk about how to transform suffering into Self Realisation.
Since 2006 they have represented NGOs at the United Nations communicating the emerging science that points to the lifelong effects of preconception, birth and early life to age 3. They are the co-founders of Birth The Change® and Stress&Pain BeGone®, leading-edge education to inspire and transform health, wellbeing and empowerment. Their programmes contribute directly to the achievement of the UN Sustainable Development Goals.
October 23
Morning 9-12:30pm
Sharing - Let's get to know each other
Morning Star Birth Center team presents:
Krishna Lescure (Aurovillian Doula, Lactation Counselor, Apprentice Midwife ) - Breastfeeding: Importance for physical, mental and emotional wellbeing of baby and mother


Monique Gauthier (Canandian/US Midwife and Birth Educator)-The Practice of Spiritual Birthing


Monique has been attending births as a midwife in New England, U.S.A and Ontario, Canada since the early nineties. She was invited into midwifery by the midwives at The Farm in Tennessee (Spiritual Midwifery, Ina May Gaskin)
Her midwifery care included as much spiritual practice as she could bring to her clients. Pre-Conception Counselling to invite Souls, Meditations in prenatal appointments, Visualization for optimum birth, Self-hypnosis, Vipassana at birth, peaceful birthing, sacred postpartum, community care. She is the producer of the water birth film; Birthing Peace.
Magesh (Aurovillian, Tamil Nadu Registered Nurse and Midwife)- Bringing Change to birth and breastfeeding in Tamil Nadu
Afternoon 2-5 pm "Stress&PainBeGone®"
It is very useful for labour, birth, breastfeeding and first aid.
Julie and Francois will share an easy, effective, rapid and non-invasive method to transform stress and pain into health and wellbeing. We invite everyone who is interested in learning how to help themselves, family and friends neutralize stress and pain. Here are some signs of stress:
Low energy – chronic fatigue
Headaches, migraines
Acute, chronic pain
Short term memory loss
Anxiety, worry
Insomnia
Irritability
Lack of creativity
Lowered immune system functioning
Indigestion
Weight gain or loss
Infertility
October 24 – 9am – 5pm
"Thriving Begins Before Birth"
Full-day - Get to the source of limiting core beliefs and emotional wounds. Step into your power.
This day of sharing is open to those who wish to heal and transform vulnerability into empowerment by connecting with their own inner Eternal Source.
October 25th – 9am – 5pm
"From Fearing Birth to Birthing in Love"
Full-day– This day is open to parents, future parents, professionals and all those interested in learning about how the way in which we are born affects us throughout our lives. Then we will look at how wonderful birth is meant to be for mother, father and the newborn.


Registration required due to limited space, please sign up by sending an email to: ally@auroville.org.in
Phone: 7639318959
Email: ally@auroville.org.in