Login
to view all events.
Thai Massage ( By Appointment) with Erik
access_time Every Mon, Tue, Wed, Thu, Fri, Sat @ 08:00 AM from Oct 10
visibility Published for Public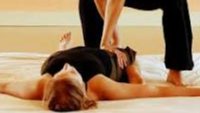 Traditional Thai massage is an ancient healing system that combines broad and targeted acupressure, stimulation and manipulation of energy lines called sen, and assisted yoga postures. Traditional Thai massage uses no oils or lotions, and the recipient remains clothed during a treatment. There is constant body contact between the practitioner and client, but rather than rubbing on muscles, the body is compressed, pulled and stretched in order to clear energy blockages and relieve tension. The practitioner uses thumbs, palms, forearms, elbows, knees and feet to create a dance of movement on the body of the recipient. In this process, joints are opened, muscles and tendons are stretched, internal organs are toned, and energy is balanced. The overall effect is one of deep relaxation, rejuvenation, and physical and mental well-being.
Specific treatments for headache, shoulder pain, back pain etc. can be given as well. The recipient should wear comfortable, lose clothes to allow pressure on and stretching of the body.
Organizing Group: Pitanga - Cultural Centre
Phone: 0413 2622403/ 2622994
Email: pitanga@auroville.org.in