Login
to view all events.
HOLISTIC Present: Discover your potential and your inborn talents
access_time Every Tue, Thu, Fri, Sat @ 02:30 PM from Apr 28
visibility Published for Public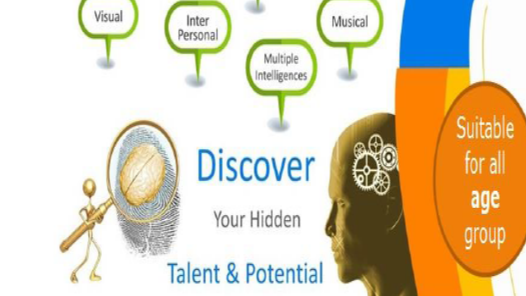 "Analysis of Multiple Intelligence"-


A Scientific way to discover your hidden talent and potential. Technology to know one's Inborn Potential & Talent. That will help you to know your resources and abilities, and to develop them.
Age: Suitable for all age groups & particularly help youth to choose their studies


Multiple Intelligence Analysis (MIA) is a system that help to reveal and understand Multiple Intelligence.
Using this revolutionary system helps us identify our inborn talents and help us to build them into strengths, so that we can consistently enjoy the rewards.
Want to know how your Multiple Intelligence work and willing to know your natural weakness and strength with 99.99% accuracy (Linguistic Intelligence / Logical Intelligence / Visual Intelligence / Interpersonal Intelligence / Intra-Personal Intelligence / Gross Motor Skills / Fine Motor Skills / Intelligent Quotient / Emotional Quotient / Creative Quotient / Adversity Quotient / Learning Style).


To know more visit:
https://www.auroville-holistic.com/mindful-technique-ami-or-how-to-discover-your-inborn-potential/

For more info & booking :91-9489805493
or Christine@auroville-holistic.com
Address : Holistic healing and well being Center-Office


1st Floor_ Opp Supermarket Blue Basket
Auroville Main Road |
Kuilapalayam – Auroville

Organizing Group: Holistic
Phone: +919489805493
Email: christine@auroville-holistic.com
Organizing Group: Holistic
Phone: +919489805493
Email: contact@auroville-holistic.com