Login
to view all events.
HOLISTIC Present : Ashtanga Yoga with CHRISTINE- Mysore Style
access_time Every Mon, Tue, Wed, Thu, Fri, Sat @ 07:30 AM from Sep 16
visibility Published for Public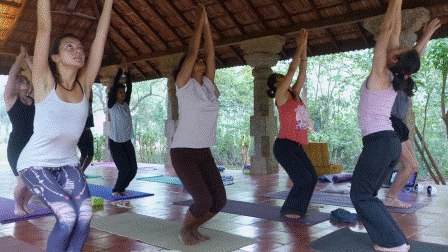 Ashtanga Yoga classes - Mysore style

Every Day from Monday to Saturday at 7:30 Am
Except Full moon and new moon days ( check the dates on our website: www.auroville-holistic.com-
Minimum attendance is one week.

A Holistic Studio @ Kuilapalayam- Auroville Main Road


Ashtanga Yoga means 8 limbs of yoga and Ashtanga Vinyasa Yoga involves synchronizing the breath with a progressive series of postures—a process producing intense internal heat and a profuse, purifying sweat that detoxifies muscles and organs. The result is improved circulation, a light and strong body, and a calm mind.


From Monday to Friday: the format of the practice always remains the same; one always begins practice with Surya Namaskar, concludes with Padmasana and rest, and the various asanas gradually fill the space between these two poles It is through the daily practice of Ashtanga Yoga that we draw it into ourselves,
On Saturdays, group guided classes are taught, in which all the vinyasas are counted out loud and all students follow along together accordingly

For any class you want to participate, you have to register with me beforehand, by phone/ whatsapp
9489805493 or mail
christinep@auroville.org.in
www.auroville-holistic.com
Organizing Group: Holistic
Phone: +919489805493
Email: christinep@auroville.org.in