Login
to view all events.
Improvisation Games
location_on SAWCHU - Bharat Nivas
access_time Every Fri @ 04:30 PM from Nov 01
visibility Published for Public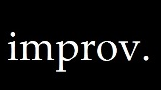 Theatre Improvisation Games: Improvisation Theatre or IMPROV, is a form of live theatre where most, if not all, is created the moment it is performed. Our 1.5-hour IMPROV workshop will give you a taste of what IMPROV is all about and teach you some cool personal and performance skills that will build confidence and self-esteem to make a great impression, awaken and express creativity, develop quick-thinking & active listening skills. Date and venue: Every Friday at 4.30 pm at SAWCHU (Bharat Nivas).
Organizing Group: Bharat Nivas
Phone: Ema (99439 70834) or Elke (94865 20868).