Login
to view all events.
kathak Dance Classes with Yogini (for regular practitioners only)
location_on SAWCHU - Bharat Nivas
access_time Every Wed @ 05:00 PM from Dec 04
visibility Published for Public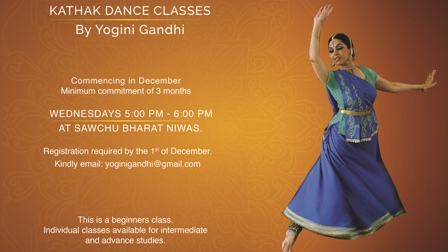 Brief note on Kathak and Yogini Gandhi
Indian Performing Arts have their root in the ancient wisdom of India where the sages developed different means of self-evolvement.The Indian classical dances are methods of dynamic yoga that help growth at the physical, mental, emotional and spiritual levels. Indian performing arts were traditionally taught to young children as a means of all round development. Over the centuries Indian Classical Dance has delineated into 8 distinct styles; Kathak being a prominent one amongst them.
Kathak, the regal dance style from North India has the charm and subtlety associated with exotic miniature paintings. Nurtured in the holy precincts of the Hindu temples, Kathak was further enhanced with Persian influences during the Mogul reign in India. Enriched by centuries of royal patronage, Kathak has emerged as one of the prominent classical dance forms of India.
Yogini Gandhi is amongst the very few dancers who perform two Indian classical dance styles - Kathak Odissi with equal dexterity and virtuosity.
Her training in Kathak commenced at Kalachhaya and Odissi under Shri Natbar Maharana. She further went on to receive guidance from India's legendary dance maestros Pt. Birju Maharajin Kathakand Guru Kelucharan Mohapatra in Odissi. Yogini's dance creatively infuses her individual artistic perception with the knowledge she has received from her gurus.
She has been active as a performer and teacher for more than 25 years. And has extensively performed for audiences in India and abroad to much critical acclaim.
Yogini has recently joined Auroville and looks forward to bringing new energy to the field of performing arts in the community.

Every WEDNESDAY 5 TO 6 pm at Sawchu Bharat Nivas

For regular practitioners only
Organizing Group: Bharat Nivas
Email: yoginigandhi@gmail.com