Login
to view all events.
'Savitri Parayan' at Savitri Bhavan
location_on Savitri Bhavan
access_time Every Sun, Wed, Thu, Fri, Sat @ 09:00 AM from Nov 13
visibility Published for Public
location_on Physical Event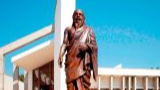 Complete SAVITRI Reading from November 13 to 17, 2019 at Savitri Bhavan
Dear Friends and Lovers of Savitri, this year again we will hold a Savitri Parayan.
On Wednesday 13 November to Saturday 16 November the reading of SAVITRI will start at 9am and continue until 12:00 or 12:30pm. Then there will be a pause and we will start again at 2:00pm and close around 7:30pm.
On Sunday 17 November the reading will start at 2:00pm, after Darshan, and we will read Book 11 and Book 12.
You are most welcome to join for part or the whole of this SAVITRI Reading or 'parayan'. If you would like to participate please write to
Organizing Group: Savitri Bhavan