Login
to view all events.
Theatre: "Noises Off"
access_time Dec 07, Sat @ 08:00 PM
visibility Published for Public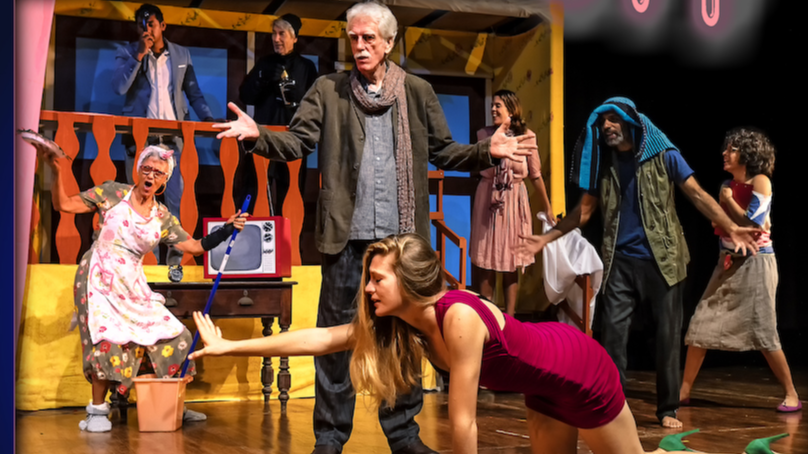 Noises Off

is a 1982 play by the English playwright

Michael Frayn

. The idea for it came in 1970, when Frayn was watching from the wings a performance of

The Two of Us

, a

farce

that he had written for

Lynn Redgrave

. He said, "It was funnier from behind than in front, and I thought that one day I must write a farce from behind."

[1]

The prototype, a short-lived one-act play called

Exits

, was written and performed in 1977. At the request of his associate,

Michael Codron

, Frayn expanded this into what would become

Noises Off

. It takes its title from the theatrical stage direction indicating sounds coming from offstage.

"No actors in the world can be more suitable for this comedy than this crazy cast of Aurovillians. They 're perfect for their roles, trust me!" Francesca

CAST: Afsaneh Anandamay Elke Ingo Lili Nishant Otto Romel Sheetal

DIRECTOR: Francesca

Saturday 7h and Sunday 8th of December

Bharat Nivas Auditorium

8pm sharp

The Noises Off cast and Director invite everyone to participate in the fundraising organized by us to redo the stage of the Bharat Nivas Auditorium, now damaged to the point of urgently needing repair works.
Therefore spectators are invited to contribute at the exit of the show. Contributions will be of course voluntary.
Organizing Group: Satsang Teatro (under Satsang Arts)