Login
to view all events.
Karthigai Deepam Festival
access_time Dec 09, Mon @ 05:00 PM
visibility Published for Public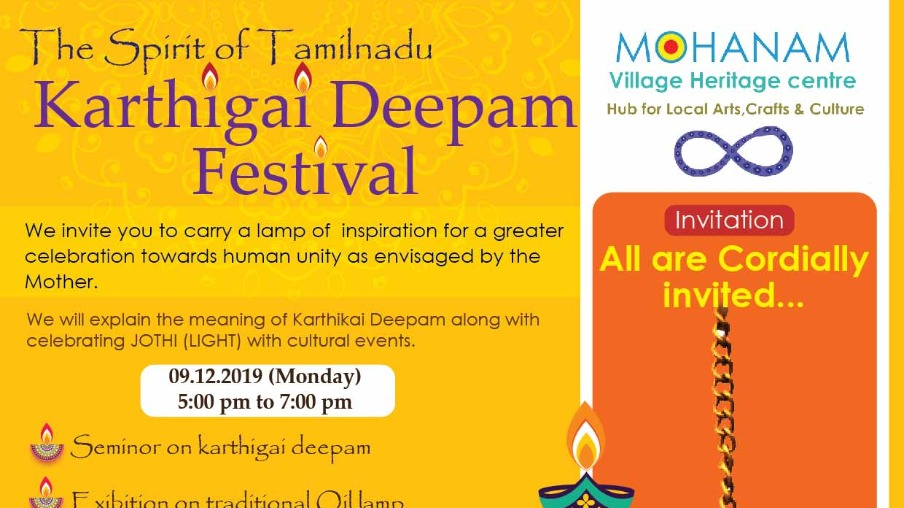 The Spirit of Tamilnadu


KARTHIGAI DEEPAM FESTIVAL


We invite you to carry a lamp of inspiration for a greater celebration towards human unity as envisaged by the Mother.


We will explain the meaning of Karthigai Deepam along with celebrating JOTHI (Light) with cultural events.


Day: Monday (09/12/19) Time:05:00 pm to 07:00 pm


Seminar on Karthigai Deepam
Exhibition on traditional Oil lamp
Karthi Suthuthal (Introduction of how to juggle native palm flower crackers)
Chokkapanai Bonfire will take place along with Karthigai Deepam
Taste the Traditional Karthigai Deepam special recipes
At conclusion, a collective Meditation among the Lamps to celebrate unity in light
Day: Tuesday (10/12/19) Time: 06:00 pm to 07:00 pm


Experience the Karthigai Deepam walk with Mohanam Youth in the village streets
All are cordially invited


Venue: Mohanam Campus (Near Colour of Nature, Opp. to Imagination) Alankuppam, Auroville,


Contact Number:+91 8300949079


Email: mohanamprogram@auroville.org.in


www.mohanam.org


Phone: 8300949079
Email: mohanamprogram@auroville.org.in