Login
to view all events.
"Fasting into Freedom – before, in between and the beyond..." - Talk, Q&A
access_time Feb 02, Tue @ 05:00 PM
visibility Published for Public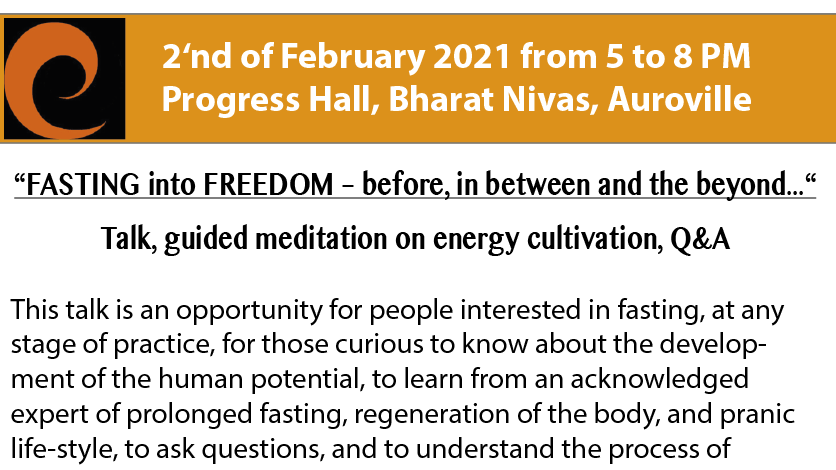 2'nd of February 2021 from 5 to 8 PM
venue: Bharat Nivas, Progress Hall

This talk is an opportunity for people interested in fasting, at any stage of practice, for those curious to know about the development of the human potential, to learn from an acknowledged expert of prolonged fasting, regeneration of the body, and pranic life-style, to ask questions, and to understand the process of energy cultivation and of raising the vibrations.
Shifting to waste-free energy nourishment - is an evolutionary process, happening in our own bodies! Receive the insight from a person walking this path about the advantages & unlimited opportunities of pranic life-style, which goe way beyond fasting, and are awaiting the humanity.
This talk will be recorded and followed by several retreats in Auroville, India.
3'rd to 7'th, 10'th to 14'th, 17'th to 21'st & 24'th to 28'th of February.
Elitom El-amin is internationally acknowledged as the expert of prolonged fasting, living without the need for food or water, started on the path of fasting in 2000, for health reasons. He is an author of several books, courses and shares his knowledge and experience worldwide. elitomelamin.org; facebook.com/elitom.elamin

ARA (Awereness Research Auroville) registered activity of Auroville

Contact for more information:
email: ara@auroville.org.in
WA.: +91 - 94880 47368
Organizing Group: ARA (Awareness Research Auroville)
Phone: WA.: +91 - 94880 47368
Email: ara@auroville.org.in