Login
to view all events.
Introduction to Integral Yoga
location_on Savitri Bhavan
access_time Every Sat @ 03:00 PM from Jan 08
visibility Published for Public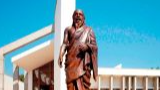 The Integral Yoga
of
Sri Aurobindo and the Mother
'It is the old methods of yoga which demand silence and solitude. The yoga of tomorrow is to find the divine in work and in relation with the world.'
- The Mother
What is Integral Yoga?
Introductory talks followed by Q&A
led by Ashesh Joshi
Every Saturday 3 to 4 pm
at
Savitri Bhavan

Everyone is welcome
Organizing Group: Savitri Bhavan