Login
to view all events.
IS THIS THE END OR A NEW BEGINING
location_on Sri Aurobindo Auditorium - Bharat Nivas
access_time Sep 25, Sat @ 09:00 PM
visibility Published for Public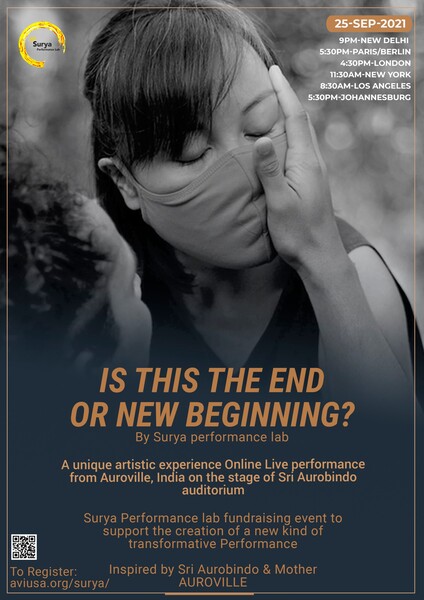 Surya performance Lab Auroville is creating a new show for 150th Sri Aurobindo birthday.


It's a theatrical, choreographical, musical performance inspired by a poem by Sri Aurobindo, called: "IS THIS THE END?"


Facing a world in crisis and deep transition, our characters on stage express the physical urgency of a new breathe, new link to Nature and Vastness.


We absolutely need your support to create this show. Much more than supporters or donors, Surya performance lab wishes to consider you as partners.


In collaboration with AVI-USA, we invite you to a unique artistic online live performance from Sri Aurobindo auditorium, Auroville, India on Saturday 25th of September.


Considering the requests of the public from Auroville, we want to inform you that we will be happy to welcome everyone who is interested to watch our event live from Sri Aurobindo auditorium.
Please be there at the Auditorium at 8.45 pm on Saturday 25th September, as the online event will start at 9 pm sharp.
We will introduce our new creation "IS THIS THE END?" a show for the 150th Sri Aurobindo birth anniversary in collaboration with Auroville 150th Sri Aurobindo birth anniversary celebration team.
We will perform an extract of the show (30 minutes), we will introduce our team and we will screen a short video.
If you cannot be there at the auditorium, you can still join us online or watch the event later on zoom.


It's a fundraising event to support the creation of the new show.
Please donate to Surya performance lab FS account: 252160.
Organizing Group: Surya Performance Lab
Phone: +918903869078
Email: suryaperformancelab@aurovill.org