Login
to view all events.
The JOI of Human Unity Anitya community sharing
access_time Oct 16, Sat @ 09:00 PM
visibility Published for Public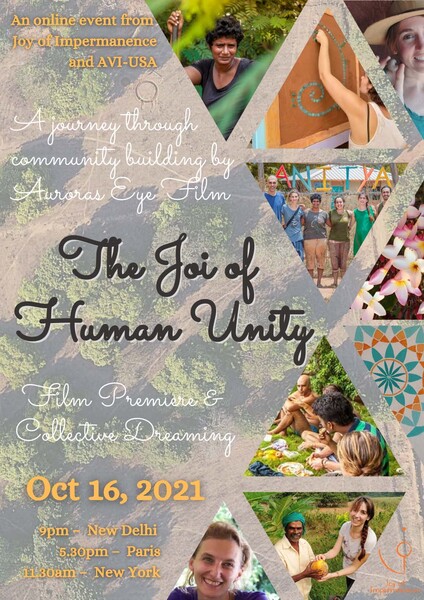 Dear Friends,
Greetings from Joy of Impermanence Anitya! We are writing to share with you an event we are jointly hosting with Aurora's Eye Films and AVI USA on the 16th of October at 9pm Indian time to launch our new film 'The JOI of Human Unity'.


We invite you to an interactive evening where we share with you our lived experience of building community in Auroville, South India. Through our journey we invite you to dream with us the possibilities of an integral, creative future through community.


At Joy of Impermanence, we believe that humanity needs new solutions to our compounding collective crises. And we believe that these solutions cannot just change the way we think – they need to change the way we live. We aim to live in a way that honors the essential impermanence of nature, and to allow our collective intelligence to guide as we create sustainable spaces that protect and enrich the Earth and each other. We believe that the insights that arise from our collective experiment in impermanence and sustainability are valuable, and we are committed to sharing them


At this film premiere we will be speaking about our community building journey and will hold a collective dreaming experience with live music for you to participate in. Do join us if you feel inspired to know more and support us!
Please register at
https://aviusa.org/joi/
For aurovilliens, if you would like to donate directly to account number in fs 251647 and email matthew@aviusa.org he will send you the link to the event.
After you donate, you'll receive an email confirmation, and then during the week of October 11th we will email you again with a link to join the event


Your donation will support the Joy of Impermanence project's ongoing work to explore community living in the spirit of impermanence and share their learning with the world through interactive educational events and activities.


With love and light,
JOI Anitya team
(Mathilde, Nikethana, Andres, Ion, Serena and Mira)
Email: https://aviusa.org/joi/