Login
to view all events.
A History of Ladakh through its Heritage
location_on Cinema Paradiso (MMC - Town Hall)
access_time Oct 16, Sat @ 05:00 PM
visibility Published for Public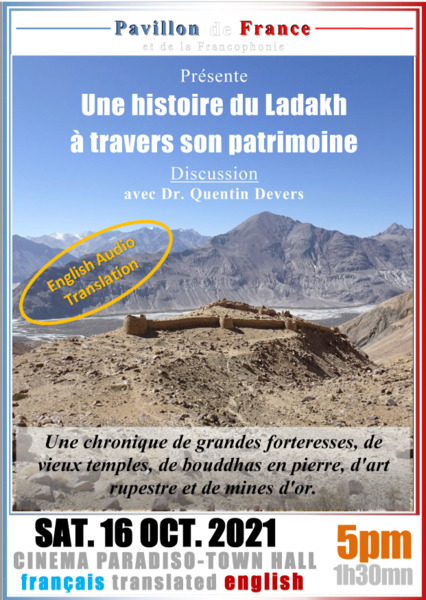 The French Pavilion presents
"A History of Ladakh through its Heritage"
Discussion
with Dr. Quentin Devers
Saturday 16th October 2021 at 5pm
Town Hall - Cinema Paradiso
in French with audio translation in English, length: 90min
A chronicle of grand fortresses, old temples, stone Buddhas, rock art and gold mines.
Dr. Quentin Devers is a permanent researcher at the French National Centre for Scientific Research (CNRS), within the French Institute of Pondicherry. He has been researching the heritage of Ladakh since 2009, surveying well over a thousand historical sites. In this presentation, he will show the latest discoveries made in the course of the comprehensive documentation that he is conducting in partnership with the Indian National Trust for Art and Cultural Heritage (INTACH).
Ladakh shelters a rich yet forgotten heritage, comprising of millennia-old rock art sites, ancient temples, rock-cut Buddhas, abandoned gold mines, etc. The most striking remains are perhaps the fortresses of the region, built atop majestic and inaccessible peaks. Their function was to defend the vast resources of this territory, rich in gold, sapphires, pashmina, musk, salt, etc. These caused diverse population groups from the surrounding regions to settle in these high desiccated valleys, and led to bandits and armies from all origins to fight fierce battles in a struggle to control the rich trade routes and precious resources that structured this land.
Organizing Group: French Pavilion
Email: france@auroville.org.in