Login
to view all events.
Abhyasa - Yogasana & Pranayama Practice Cohort
location_on SAWCHU - Bharat Nivas
access_time Every Tue, Thu, Sat @ 06:30 AM from Jun 21
visibility Published for Public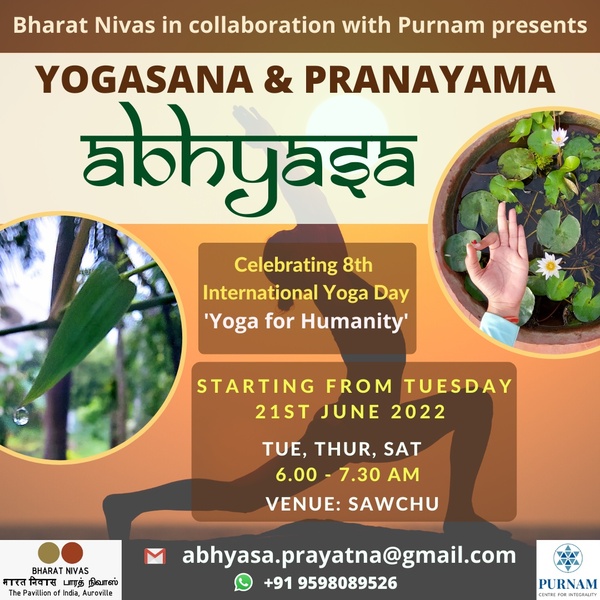 Invitation to Join Yogasana and Pranayama practice, offered by Purnam in collaboration with Bharat Nivas. The Course will be facilitated by Pragya Upadhyay, Counseling Psychologist and Yoga Teacher, offered at SAWCHU, Bharat Nivas, starting from 21st June on the occasion of International Yoga Day.
Theme: Yogasana & Pranayama Practice Cohort
Time: 6.00 - 07:30 AM
Days: Weekly thrice- Tuesday, Thursday, Saturday
Starting From: 21st June
Venue: SAWCHU
Level: Beginner & Intermediate
About the Abhyasa sessions:
Abhyasa is a collective and collaborative peer-learning space held with unconditional love and self-acceptance towards our body, mind and emotions
Even though the sessions will be facilitated by Pragya, in a sequence as per a schedule, yet your individual needs with respect to pace, frequency and variations in the practice will be respected and supported
Abhyasa is suitable for an aspiring student of Hatha Yoga and Integral Yoga
Experiential Journey of Self-Transformation by building and strengthening a joyfully conscious relationship with your Physical and Vital Body, through the practice of Yogasana (Body-postures), Pranayam (Breath-work) and Dhyaan (meditation)
Sign Up for Abhyasa:

On the occasion of 8th International Yoga Day, we are celebrating the theme of "Yoga for Humanity". Auroville belongs to humanity as a whole and is a living embodiment of an actual human unity. It is the land, manifesting A Dream that,"it would be a place where human relationships, which are normally based almost exclusively on competition and strife, would be replaced by relationships of emulation in doing well, of collaboration and real brotherhood."


With this aspiration in the heart, we invite you to join us for a collective and collaborative Hatha Yoga Practice Cohort ~
Abhyasa
, Offered by
Pragya Upadhyay
,
M.A. Clinical Psychology with specialization in Indian Knowledge System based psychological therapeutic approaches, YTTC 200 Hours


For any queries, Feel free to contact us at


WhatsApp : +91 9598089526


There will be a WhatsApp group for maintaining a sense of connection, sharing insights based on your practice and keeping each other inspired.


About Abhyasa :


Abhyasa was started by
Pragya Upadhyay
as an
Online Purnam Practice Lab
in January 2022 with a batch of 12 Hatha Yoga practitioners, who joined from different parts of India and abroad. The aspiration behind creating and facilitating Abhyasa Lab is Practicing Self-discipline -
Anushasana
and
building a
Joyful Consistency
-
Abhyasa
, into
Hatha Yoga Practice
by exploring the power of
Collective and Collaborative Efforts -
Sangha
.
Instead of struggling with the inconsistency and limiting cognitive and behavioral patterns, that makes us feel alone, frustrated and lost.
Abhyasa is for you ~
If you are battling alone with integrating the continuity of Yoga Abhyasa as a routine in your life and wish to develop a healthy body, clear mind and a disciplined life
If you too aspire to break free from the old shackles of limiting behavior patterns and flow along with the manifestation of your true inner self
If you sincerely aspire for harmonizing Yama, Niyama, Asana & Pranayama the Four grounding pillars of Maharishi Patanjali's Ashtanga Yoga
If you sincerely aspire for Self-discipline ~ Anushasana, not coming from the space of scarcity, impatience, frustration and self-criticism but from a space of self-acceptance, nurturance, willingness for untiring self-work, with a sense of joy
If you recognise and respect the power of collective practice

With Warmth and Love,
Purnam Center of Integrality and Bharat Nivas
Organizing Group: Bharat Nivas Group : Pavilion of India
Phone: +919598089526
Email: abhyasa.prayatna@gmail.com