Login
to view all events.
Exhibition - 'Blessings' at Savitri Bhavan
location_on Savitri Bhavan
access_time Every Mon, Tue, Wed, Thu, Fri, Sat @ 09:00 AM from Jul 22
visibility Published for Public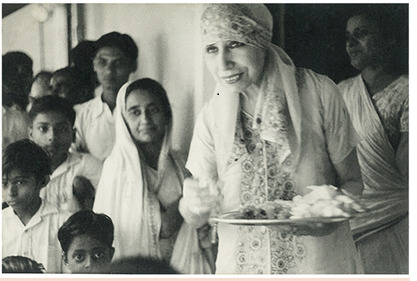 Exhibition 'Blessings'
The exhibition entitled 'Blessings' is a collection of images mainly by the world-renowned photographer Henri Cartier-Bresson who was chosen by the Mother to photograph Sri Aurobindo and Herself, and capture some moments of the Ashram life on the Darshan days in April 1950.
These photos are unique in many ways. Without them we would not even know how Sri Aurobindo looked after his forties. Also, they offer a rare insight into the solemn atmosphere of the Darshan and the daily life of the Aurobindo Ashram.
The photographs displayed are illustrative of Henri Cartier-Bresson's searching for the 'right moment'. They trace his creative process: his changes of the angle, focus, and composition. These rather subtle changes are extremely interesting for the viewer because they reveal Cartier-Bresson's effort to capture the highest moments of truth.
Two thirds of the exhibition comprise the work by a single photographer: Henri Cartier-Bresson. Besides that, single photographs by various photographers are presented in random order to give an idea of the Mother's daily work and various Ashram activities.

Inauguration of the exhibition will be at 10am on Friday 22nd July 2022

From 22nd July to August 10, 2022
in the Square Hall of Savitri Bhavan

Everyone is welcome
Organizing Group: Savitri Bhavan