Login
to view all events.
Film - 'Meditations on Savitri' at Savitri Bhavan
location_on Savitri Bhavan
access_time Sep 26, Mon @ 04:00 PM
visibility Published for Public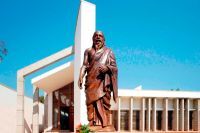 Film

Meditations on Savitri - These meditative films are based on the passages from Sri Aurobindo's epic poem Savitri – A Legend and a Symbol, read by the Mother, accompanied by Her own organ music and illustrated with paintings made by Huta under the guidance and inspiration of the Mother. We offer these films, in order to concentrate within, to be with our soul and psychic being and the Divine presence.


Meditations on Savitri, Book 5: The Book of Love,
Cantos 1-3. Duration: 32min.
Monday September 26, 2022 at 4.00pm
in the Sangam Hall of Savitri Bhavan

Everyone is welcome
Organizing Group: Savitri Bhavan