Login
to view all events.
Vocal Yoga Workshop
location_on Bhumika - Bharat Nivas
access_time Sep 24, Sat @ 09:00 AM
visibility Published for Public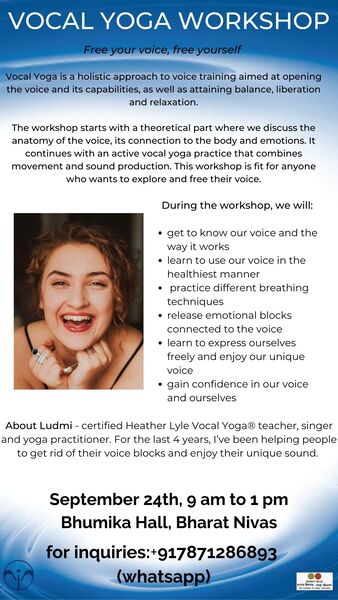 Free your voice, free yourself


Vocal Yoga is a holistic approach to voice training aimed at opening the voice and its capabilities, as well as attaining balance, liberation, and relaxation.


The workshop starts with a theoretical part where we discuss the anatomy of the voice, its connection to the body, and emotions. It continues with an active vocal yoga practice that combines movement and sound production. This workshop is fit for anyone who wants to explore and free their voice.


During the workshop, we will:


get to know our voice and the way it works
learn to use our voice in the healthiest manner
practice different breathing techniques
release emotional blocks connected to the voice
learn to express ourselves freely and enjoy our unique voice
gain confidence in our voice and ourselves

About Ludmi - certified Heather Lyle Vocal Yoga® teacher, singer, and yoga practitioner. For the last 4 years, I've been helping people to get rid of their voice blocks and enjoy their unique sounds.
September 24th, 9 am to 1 pm
Bhumika Hall, Bharat Nivas


for inquiries:+917871286893 (Whatsapp) or write to svaramprograms@gmail.com