Login
to view all events.
Introduction to Sri Aurobindo's The Synthesis of Yoga | 5-week Course, 22 Nov - 27 Dec
access_time Every Tue @ 08:15 PM from Nov 22
visibility Published for Public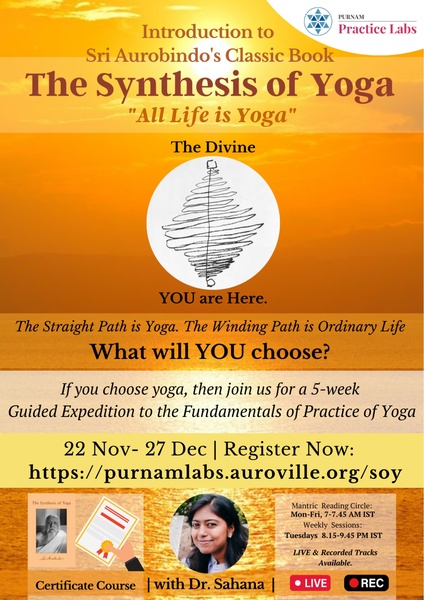 Dear Friends,
We are happy to offer a 5-Week Guided Expedition into Sri Aurobindo's The Synthesis of Yoga☀️
The radical approach of a revolutionary Yogi who proposed to the world a vision of a divine humanity through Integral Yoga, a path that bridges the past, the present and the future pursuit of Yoga
🪔 Join Us to Bask in the Light of Sri Aurobindo| For more details, visit:
https://purnamlabs.auroville.org/soy
Are you a student, seeker, researcher, or a devotee?
🌷with burning questions?
🌷aspiring to practice Yoga?
🌷exploring different spiritual paths?
🌷wondering if apparently contradictory paths can be brought together?
🌷finding it difficult to read Sri Aurobindo's works?

🪔Dates: 22 Nov to 27 Dec | Come, travel with us to discover how spirituality can empower us to take a leap into the future!
Organizing Group: Purnam Centre for Integrality
Phone: +917411424612
Email: purnam-admin@auroville.org.in