Login
to view all events.
Madhyama
location_on Unity Pavilion
access_time Jan 28, Sat @ 07:00 PM
visibility Published for Public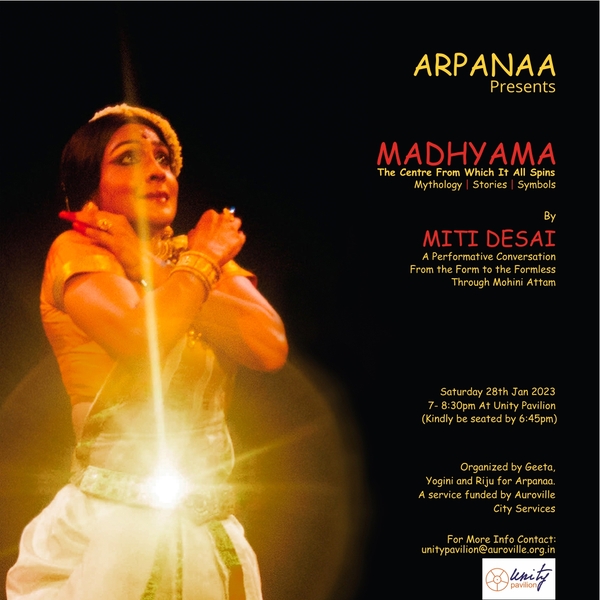 Arpanaa is delighted to present a unique concert : Madhyama The Centre from which it all Spins by classical dancer, designer and educator Miti Desai. A performative conversation the artist will delve into mythology, stories and symbols, exploring the journey of classical dance from the Form to the Formless.


Miti Desai, a Mohini Attam dancer is a senior disciple of Guru Smt. Mandakini Trivedi. Fluidity of lines, an inner grace and an innate understanding of the form, mark Miti's dance. She has been awarded the title of Singar Mani and has performed at prestigious festivals in India and Abroad.


After her presentation the artist will engage in a Q & A session with the audience. This shall be a wonderful opportunity to understand the nuances of classical indian dance and the principles that the form is rooted in.

Date: 28th January 2023
Venue: Unity Pavillion
Time : 7-8:30pm ( Please be seated by 6:45pm)


Arpanaa is an organization under the Auroville City Services and has been engaged in bringing various cultural events for the community. Presently this service is anchored by Geeta, Yogini and Riju.


Organizing Group: Arpanaa