Login
to view all events.
Satvic Movement's 21-day Ultimate Health Challenge
access_time Every Sun, Mon, Tue, Wed, Thu, Fri, Sat @ 06:00 AM from Mar 06
visibility Published for Public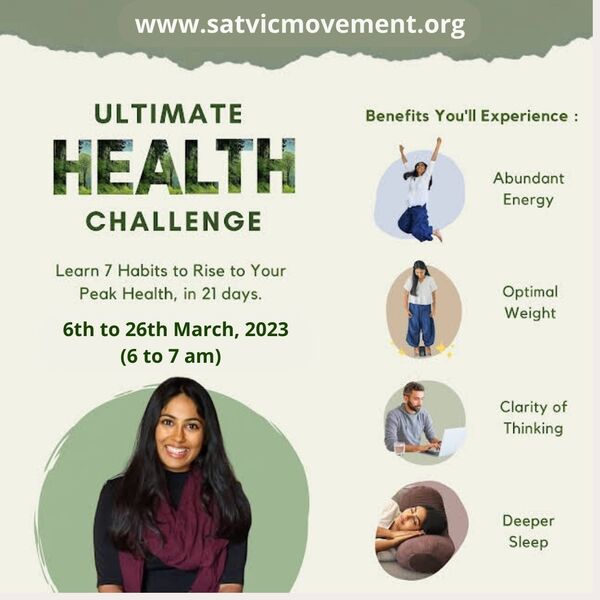 21-day Ultimate Health Challenge
We're happy to recommend the upcoming 21-day Ultimate Health Challenge facilitated by the Satvic Movement (
satvicmovement.org
) team from 6th to 26th March, 2023. It's an online program with sessions every morning from 6 to 7 am.
Support Group in Auroville:
In February 2023 some of us in Auroville who had taken this online program came together for a 3-day cooking workshop led by Mini Gupta, a chef from the Satvic Movement team. We also met over a couple of potluck meals and sessions to learn and reflect together.
For the 21-day program in March 2023 also we are forming an informal support group for residents in and around Auroville. The support will be offered in the form of collective study and reflection circles locally as well as an exploration of a community kitchen experiment that serves whole-food plant-based vegan dishes. We will also read and reflect on excerpts from books like 'Integral Healing' which has a compilation of Sri Aurobindo and The Mother's writings on health and healing.


Registration:
It has a fee of Rs 590 which you can directly pay to Satvic Movement. If money is a constraint, then let us know and we can request them to give a discount/waiver.
It's also important to clarify that Samskritam Auroville team neither takes any financial incentive from this program nor charges any fees for the services and local support. We offer all our learning programs and services as an unconditional gift and we run solely on voluntary donations.
To know more or to join the support group, please write to us on
devabhasha@auroville.org.in
All are welcome.
Warmly,
Deven and Shilpa
For Samskritam Auroville and Bharat Nivas team
Organizing Group: Sanskritam Auroville