Login
to view all events.
THINK 3D - Product Design Workshop
location_on Auroville Institute of Applied Technology, Irumbai main road
access_time Mar 18, Sat @ 09:00 AM
visibility Published for Public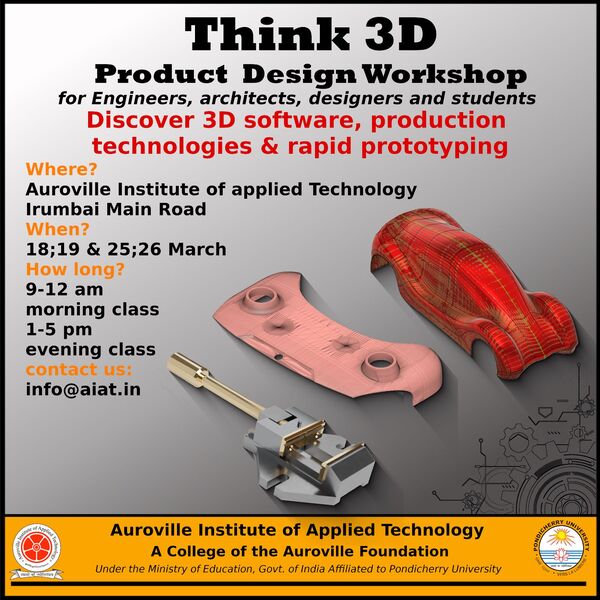 Four days design course for engineers, architects, designers, and students.
March 18th, 19th, 25th, 26th 2023 from 9 am to 5 pm

Creating your own product from scratch can be tough. That`s why we want to help you discovering new solutions for designing, constructing, and manufacturing.

In our workshop you will get hands on experience in operating milling machines and 3d Printers. Professionals will guide you through the process of bringing your ideas to life.

You will learn about:
-principles of engineering design
-subtractive and additive manufacturing methods
-basics of CAD Software
-Manufacture parts on 3d printers as well as Milling machines

If you are interested in taking part in the workshop register under bit.ly/3FncKw9 or write a mail to info@aiat.in.
Organizing Group: Auroville Institute of Applied Technology
Phone: (+91) 89031 66923
Email: info@aiat.in