Login
to view all events.
JIVA Homoeopathy & Plants research in honor of Hahnemann with Sigrid Lindemann
location_on Sharnga Guest House
access_time Every Sat @ 02:16 PM from Apr 08
visibility Published for Public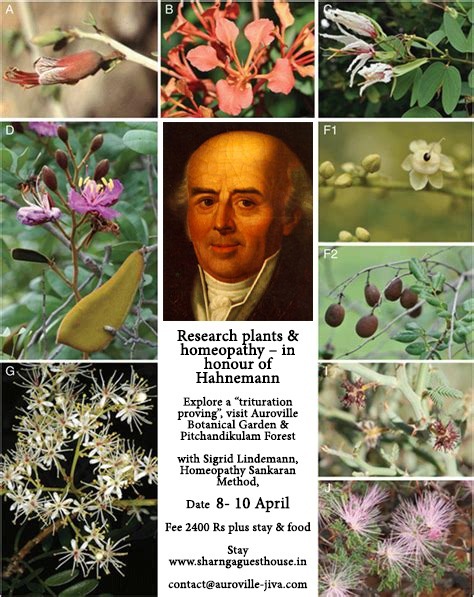 Research plants & homeopathy
In honour of Hahnemann we offer a 3 day workshop:
We offer to explore the essence of a plant: "trituration proving" , learn about the new research in botany & homeopathy, and participate in an experiential session, gathering the essence of a plant species.
We will have guided visits to Auroville Botanical Garden & Pitchandikulam Forest

www.auroville-jiva.com Your journey in healing and transformation

The Mother: An Experience
A deep concentration seized on me, and I perceived that I was identifying myself with a single cherry-blossom, then through it with all cherry-blossoms, and, as I descended deeper in the consciousness, following a stream of bluish force, I became suddenly the cherry-tree itself, stretching towards the sky like so many arms its innumerable branches laden with their sacrifice of flowers. Then I heard distinctly this sentence:
"Thus hast thou made thyself one with the soul of the cherry-trees and so thou canst take note that it is the Divine who makes the offering of this flower-prayer to heaven."
When I had written it, all was effaced; but now the blood of the cherry-tree flows in my veins and with it flows an incomparable peace and force. What difference is there between the human body and the body of a tree? In truth, there is none: the consciousness which animates them is identically the same.
Then the cherry-tree whispered in my ear:
"It is in the cherry-blossom that lies the remedy for the disorders of the spring." *
There are certain illnesses that people get particularly in Spring—boils, impurities of the blood, etc.—which the Japanese cure with teas made from cherry-blossoms. I did not know this when I had the experience.
Organizing Group: Jiva - your journey in healing and transformation
Phone: 9626006961
Email: contact@auroville-jiva.com