Login
to view all events.
Real Sites to Cinematic Spaces
access_time Every Sun, Sat @ 02:30 PM from May 27
visibility Published for Public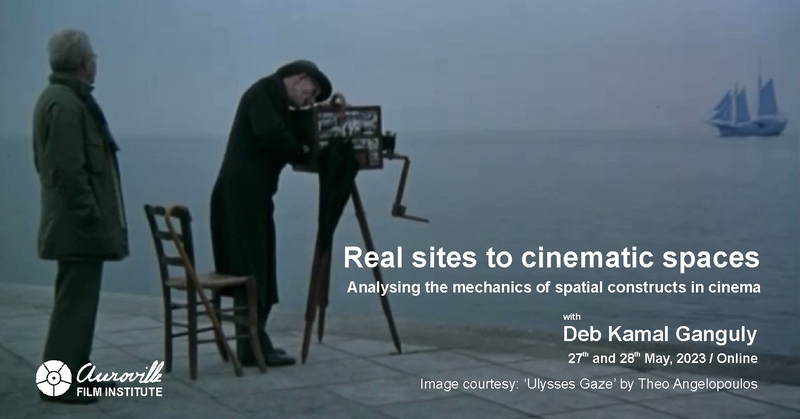 Analyzing the mechanics of spatial constructs in cinema…
With Deb Kamal Ganguly
On 27th and 28th May, 2023 ; 14:30 to 18:30 IST_Online

Apply here : https://filminstitute.auroville.org/2023/05/14/real-sites-to-cinematic-spaces/


COURSE OVERVIEW :
Some films may have an ethereal quality to them, in other words, they may exude a sense of sublime, almost a spiritual experience; however, films are inevitably crafted out of material realities. If not studio-set, it is the specific locations and real, regular sites that are dynamised into 'cinematic spaces' of extraordinary appeal. This short course will look at the mechanics of creating / constructing a 'cinematic space' out of a 'real site'. Unlike studio-set films which create cinematic worlds in a completely controlled manner, the location based, site specific films / scenes have the scope to borrow the specific characteristics of the location/site; to include in its cinematic construction the specific look and flavour of the space; in other words, the image-definition. How does the space makes you feel? Sensing the temporal rhythm of a space; getting into the inner invisible qualities of a space; creating a network of spatial compositions, characters, objects, movements, gestures emanating from a space… Not to say that location based / site specific films/scenes lack creative control. On the contrary, there is a thrilling possibility to creatively rearrange, realign, relate the existential realities of the space to the 'cinematic affect' one wishes to arrive at. The imagination of cinema in studio-sets is much different than that in location based/site specific filming. This course will appreciate and analyze examples of remarkable spatial constructs in non-fictional as well as fictional film contexts. How, in some location based / site specific films / scenes, the maker has interacted with and interpreted the space in terms of sights and sounds; further, how s/he has developed a distinct atmospheric sense. The course will also indicate towards an artisanal and materialistic approach where the iconic-indexical nature of 'profilmic' image gathered from reality gradually leads the the filmmaker towards spontaneous profusion of ideas and abstractions – as opposed to a studio-set practice, where per-conceived designs are geared to action.



PARTICIPANT PROFILE :
Film lovers, film-philosophers, film-theorists, film-makers, cinematographers, photographers, art directors, set designers, interior designers, architects, artists and explorers of all kinds, welcome !



MODE OF TEACHING:
In the session, sequences from the film will be shown and discussed in depth. Also reading material will be shared during the course.



FACULTY PROFILE:
An alumnus from Satyajit Ray Film and Television Institute (SRFTI), Kolkata, DebKamal Ganguly is an independent filmmaker, researcher and teacher of cinematic arts. He has taught for 08 years (2012-2020) and designed curriculum in Film and Television Institute of India (FTII), Pune, in the departments of Film Editing, Film Direction and Screen Studies; and as a guest faculty in National Institute of Design (NID), Ahmedabad, Flame University, Pune, Kalinga Institute of Industrial Technology, Bhubaneswar. Ganguly's works have been published under special curator-ship from Lowave, Paris; his video art featured in the exhibition 'Indian Highway' and showcased in galleries of various cities of Europe and Asia. His films done in the capacity of editor, script-writer and sound designer have been shown in competitive sections of various international festivals and received recognition, including 'Tiger Award for Shorts' in Rotterdam (IFFR 2007). Ganguly has presented papers in various international and national seminars and conferences on various themes related to cinema, Deleuze studies, visual art, interfaces of art practices, translation studies, collective memory, Bengal studies, Media studies, pedagogy of cinema, film editing as a discipline, immersive sound etc including CARA-CILECT conference in Witwatersrand University, Johannesburg (2018), CILECT conference in VGIK, Moscow (2019), Lithuanian Academy of Music and Theater (2019). He is a participant of an international project for artistic research involving BRICS countries, being the coordinator for India (2018).


Organizing Group: Film Institute Auroville