Login
to view all events.
Satsang with Prahladji at the Language Lab!
location_on Auroville Language Lab
access_time Jun 13, Tue @ 07:00 PM
visibility Published for Public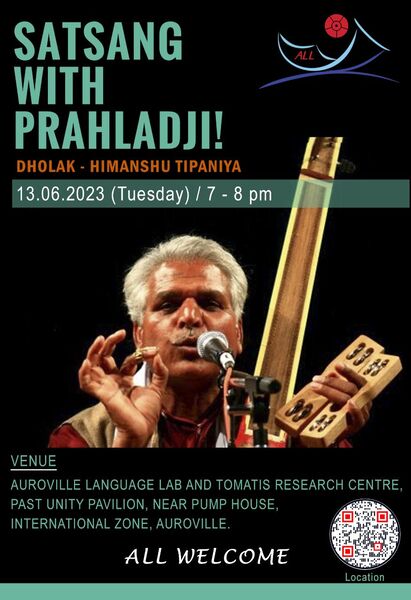 Dear all,

We will be blessed soon with the visit of Prahladji, a folk singer of Kabir from Malwa. He will do a Kabir Satsang at the Language Lab!

Some views of Prahladji:
https://www.ted.com/talks/prahlad_tipanya_group_compelling_music_poetic_wisdom
- https://www.youtube.com/watch?v=cApx92qpFks
- Kabir in America: https://www.youtube.com/watch?v=Lv0cvMZ4fO0
The Kabir in America is a full film of Prahladji's visit to the USA with his troupe....and

- https://www.youtube.com/watch?v=HvWYeZzjNWI

Auroville Language Lab Team


ABOUT KABIR AND PRAHLADJI


Kabir was an Indian mystic saint-poet who lived in the 15th Century AD. He composed "dohas" or couplets, with deep spiritual significance and stringent social commentary. He was a great critic of organised religion and strongly questioned rituals and dogmas of both Hinduism and Islam. He advocated a very simple and direct way of devotion that transcends sectarian boundaries. Kabir calls us to throw off all identities, ego, and all constructs and become one with the Divine.


Prahlad Singh Tipaniya, lovingly and respectfully called "Prahladji," is a retired schoolteacher who comes from a small village called Luniyakhedi, in the Malwa district of Madhya Pradesh, in central India. Kabir's couplets have been sung in this region by folk singers in "bhajan mandlis" for over 600 years. Prahladji is credited not only with carrying on this 600-year old folk tradition, but spreading it all over the country and the world, as a voice of Oneness and Unity. He has a very unique way of explaining the deeper meaning of the couplets while singing, to uncover their spiritual message, to invite listening, reflection and discussion in "satsangs". There is no show, no "concert," but togetherness in the presence of "sat," the truth. Satsang with Prahladji is a chance to go within and experience that closeness with the Divine. One doesn't really have to know Hindi to appreciate and be moved by the music and the message. Prahladji was awarded one of India's highest civilian honors, the Padma Shri.


We're very happy that Prahladji is coming to Auroville and Pondicherry with his grandson, to visit after a long time. There are 3 satsangs organised with him. One at Kariappa House in Pondy on 12th evening, one at Aurodhan on 13th morning, and one at the Language Lab at Auroville from 7-8pm on 13th evening (Tuesday).

For the Auroville satsang, there will be translation into English.

All are welcome.



Auroville Language Laboratory & Tomatis Research Center
International Zone, Auroville, Tamil Nadu 605101, INDIA.
Organizing Group: ALL (AV Language Lab )