Login
to view all events.
Directing Actors and Performing for Camera with Anupam Barve
location_on INDIA SPACE - Bharat Nivas
access_time Every Sun, Mon, Tue, Wed, Thu, Fri, Sat @ 09:30 AM from Sep 18
visibility Published for Public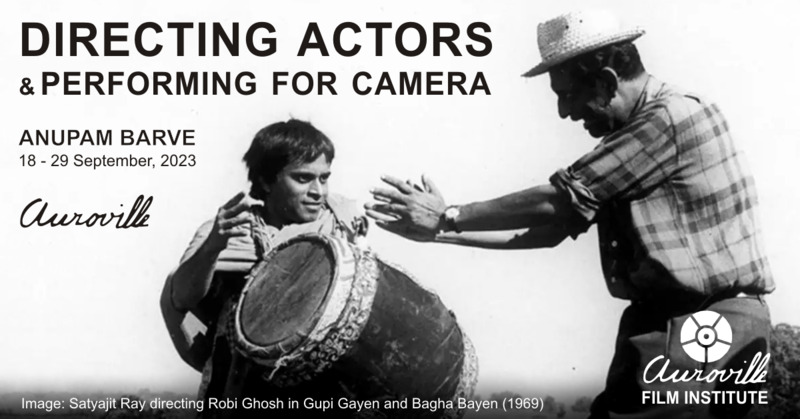 "Film is a director's medium; while theater is an actor's" is a familiar proposition. It is observed that actors who come in films, more often than not, come via the stage, from a theater background. Film director, on the other hand, gets in via film schools, media/art institutes or by assisting seniors. Often, directors working with film have to work with actors that have rehearsed in the theater. Thus, on the job, on the film floor, acting and directing can routinely happen, however, to conceive, calibrate and catalyze convincing performances within the film form, becomes very challenging.

For actors too, performing in front of camera is a whole new challenge – with so much circumstantial flux: hovering crew members, differing camera positions, changing light, lens proximities and magnifications, moods and instructions, 'n' number of scenes, shots and takes, actions and emotions broken down in fragments. How to consistently sustain a state of being as desired by the director, to correspond to the director spontaneously, to stay tuned in? Actors are the most imperative vehicle for a director, and yet, how to yield performances; how to maintain focus and emotional efficacy on say, the 17th take of the 6th shot of the same action over two days, remains a foggy myth!



This 12 days intensive workshop is a call for aspiring and emerging actors and directors – with diverse proficiencies and professional backgrounds. Designed as a collaborative lab for fiction practice, herein, the participants will be facilitated to work in groups to realize original work, which demonstrates an understanding of screen language, audiences and demands within the filmmaking environment. It is aimed to equip the participants with the ability to deliver performance to a given brief and deadline, realizing the nature of preparation required for the moving image and the difference in the demands as compared to live performance.



The workshop will be conducted in 2 Units:



Unit 1- will be an extensive interactive open forum in the class, with discussions and debates leading to an essential understanding of the language of cinema, the cinematic potential. Also, parameters involved in the technical/tangible as well as intangible aspects of directing actors and acting for cinema. Exemplary screen performances and direction samples from a selection of films, Indian and International, will be reviewed in depth, with shot break down and analyzing sceneworks w.r.t. performance delivery and actor preparation.



Unit 2- will consist of practical exercises. Participants will be taken through the rigour of making short fiction – together, in groups. Taking upon roles of a director and an actor, the participants will explore and experience the nuanced dynamic of the actor-director relationship towards building up a mise-en-scene. Shot taking and shot selection (camerawork and editing) will be integral to the practice, as key learning processes in identifying, articulating and enhancing on-screen performances. Emphasis primarily will be on performance delivery, where participants will review and analyze their own performance along with their peers in a constructive learning environment.



This is a production oriented workshop; participants will be able to take back first cuts of the exercise films and sceneworks.



ANUPAM BARVE PROFILE :
Anupam Barve is a Pune based film and theater director, and film educator. He has recently served as an Associate Professor of Film Direction at FTII. He has been a visiting film faculty at several film and media institutions across India like SIMC, SSLA, FLAME, MIT-SFT, SPPU, XCOMM, etc. for over a decade. He holds a BA in Performing Arts from the University of Pune and a MA in Directing: Film and TV from the University of Westminster, London. He was a recipient of 'Scholarship to outstanding Performing Artistes' by the Ministry of Culture, Government of India. His current theater production Uchhaad, an award winning Marathi adaptation of Yasmina Reza's black comedy God of Carnage is being performed on stage across Maharashtra. He recently produced and directed a six part fictional series called Goshta Ahe Pruthvimolachi based on various mental health issues. He also produced and directed a well received web series in eight parts based on stories around sexuality and self efficacy titled Safe Journeys. His previous work has showcased and received critical acclaim at film festivals and competitions worldwide like London Asian Film Festival, New York Indian Film Festival, Mumbai International Film Festival (MIFF), BISFF and IDSFFK. His film 'Fresh suicide' was nominated for the Golden Palm Tree Award at IFFI, Goa and has won various awards elsewhere. His feature film screenplay The Shadow Lines, an adaptation of Amitav Ghosh's novel, was also selected at NFDC's Screenwriters' Lab and Film Bazaar held at Venice Film Festival and International Film Festival of India in 2012.



WHO IS THE WORKSHOP FOR :
For aspiring and early career screen actors and early to mid career directors. Also for those who are interested in the correlation between cinema and theater. Other explorers of the cinematic terrain – welcome!



SELECTION :
Selection will be based on a statement of purpose and general qualification. We shall respond to you within 2 days of your application. If selected, you will be requested to pay the fees within 2 days of selection intimation. Participation will be confirmed upon verification of payment.



LIMITED SEATS.CONTRIBUTION:
₹ 14160 – For Indian Participants.
€ 250 – For International Participants.
Voluntary Contribution for Aurovilians.
ACCOMMODATION :
Outstation participants may book accommodation via
Auroville Guest Accommodation Service
. Feel free to reach out to us if you need recommendations based on your budget and other preferences. We'll gladly assist. Please note, baseline rates for standard accommodation on sharing basis can be about Rs. 400/day with breakfast.

Mitra Youth Hostel, Serendipity Guest House, Atithi Griha, Center Guest House, Arka Guest House, Creativity Guest House are some of our recommendations. There are many other options available – in and around Auroville.



TRAVEL GUIDANCE & LOCAL MOBILITY:
The closest Airport to Auroville is Chennai. With respect to Trains, Auroville is about 15km from Pondicherry railway station; about 75km from Villupuram and about 165 km from Chennai railway station. There are some weekly trains directly to Pondicherry, while regular trains from all parts of India to Villupuram and Chennai. There are several options of local buses and passenger trains from Chennai to Auroville; it takes about 3-4 hours approximately. For those preferring to travel by taxi, we recommend Auroville based taxi services as they can pick up from anywhere you are and drop straight to the respective Auroville guest house. Please check
Auroville Shared Transport service
.

We recommend renting bicycles/ e-cycles/ motorcycles for mobility within Auroville periphery. The Guesthouse may facilitate booking. Standard Rentals are anywhere between Rs. 40 to 150/ day depending on the kind of 2-wheeler.


Please visit
www.auroville.org
for orientation and additional information on Auroville.

CERTIFICATES:
All participants will receive a certificate of participation.



QUERIES:
For any queries, please write to: support_filminstitute@auroville.org.in or call / message +919969879319 (whatsapp and telegram only).



Further details of the workshop can be shared upon request.



APPLY BY:
15th September 2023

* Image: Satyajit Ray directing Robi Ghosh for Gup Gayen Bagha Bayen (1969)


Organizing Group: Film Institute Auroville