Login
to view all events.
Fun Indian Music Workshops for Children
location_on Cripa hall, Kalabumi
access_time Sep 25, Mon @ 10:00 AM
visibility Published for Public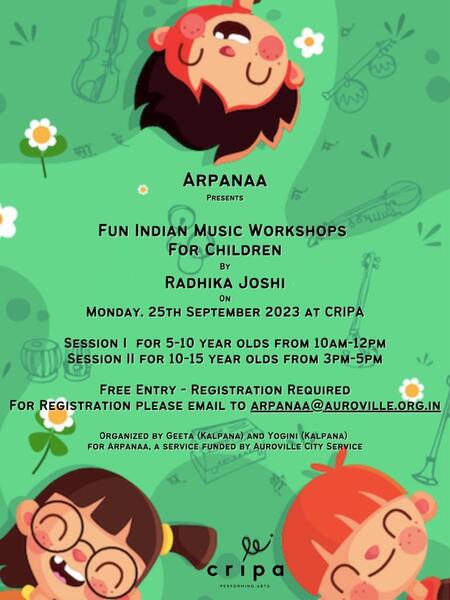 Arpanna is delighted to present Indian Music Workshops for children by Radhika Joshi, a talented young musician on Monday 25th September 2023 at CRIPA. These workshops will be a wonderful introduction to music in a fun manner with games and interesting teaching methods. There will be 1 session in the morning for 5-10 year olds and the 2nd session will be in the afternoon for 10-15 year olds. The entry for the workshops is free, however registration is required. These sessions are aimed at allowing children to experience how classical music too can be enjoyable and relevant to things around them; And how they can express themselves through music !
Radhika Joshi is a trained classical vocalist who loves to share her love for music with young children. She is a disciple of Pt. Raghunandan Panshikar, and has also studied under Padma Bhushan Smt. Girija Devi. Radhika has presented her music in several prestigious music festivals across the globe. In addition to her performances, Radhika regularly conducts workshops and lecture demonstrations that are designed to help listeners better enjoy the nuances of Indian classical music. In order to introduce classical music to children in an engaging and entertaining manner, Radhika has developed her own method which she has been published in the book titled 'Phulwari Geeton Ki'. Using this curriculum, Radhika has been conducting workshops in various cities that have been hugely successful and much loved by the children
Date: Monday 25th September 2023
Venue: CRIPA
Time : Session I 10am - 12pm (for 5-10year olds).
Time : Session II 3pm - 5pm ( For 10-15year olds).
Organised by Geeta (Kalpana) and Yogini (Kalpana).
For Arpanaa, A Service Funded by Auroville City Services.
Organizing Group: Arpanaa