Login
to view all events.
Vocal Exploration meet Body Movements
location_on Pavilion of Tibetan Culture
access_time Sep 28, Thu @ 10:00 AM
visibility Published for Public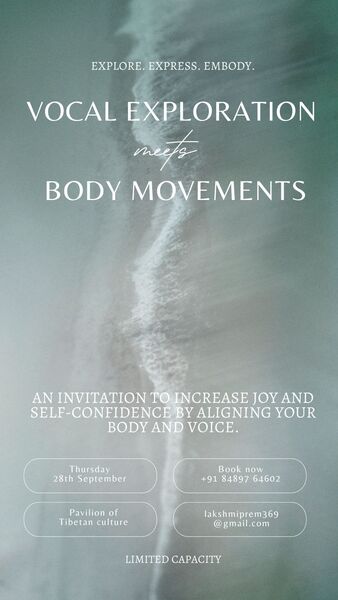 Your voice is a way that you carry your unique energy into a space. Sages said "when you are aligned in body, mind, and spirit, your voice resonates a spiritual vibration"

We will explore, express and embody our voices through differents sounds exercises allowing ourselves to flow into body's movements liberating constriction and blockages.
Vocal Exploration meet Body movements is a journey to harmony between physical movements and vocal vibration
Come and join us!
Limited space
Thursday, 28th
10am - 12.15pm
@ Pavilion of Tibetan culture

For registration please contact: 84 89 76 46 02
Lakshmiprem369@gmail.com