Login
to view all events.
The Magic of Perspectives or the art of Identification
access_time Every Mon, Tue, Wed, Thu, Fri @ 03:28 AM from Oct 10
visibility Published for Aurovilians & Newcomers only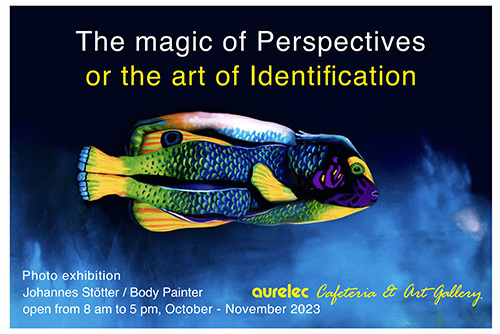 The Magic of Perspectives or the art of Identification
Photo exhibition
Aurelec Cafeteria & At Gallery.

open from 8 am to 5 pm, October - November 2023

Johannes Stötter
The Master of Illusions

Professional artist Johannes Stötter is known for his groundbreaking work in the realm of body painting and body art. His 2013 creation of a tropical frog using 5 models went viral, propelling his career into another stratosphere. As a world renowned phenomenon, Johannes has won numerous awards, reached various milestones and received several accolades from notable press. Based in northern Italy, he resides in a small town in the Alps; holding a deep connection with nature, he gains much of his inspiration. Guided by his life's philosophy, and motivated by everyday life, his fascination with people of various cultures allows his ingenuity to flourish.

Rather than a static canvas, Johannes transfers his art onto live models, which enhances the connectivity between the artist, person and art-form. Bringing his artwork to life with each brush stroke, and creating detailed effects with his hands, he fuses the seen and unseen into one. Often blending his art into the backdrop of natural landscapes or indoor décor, he creates illusionary masterpieces, portraying the beauty of life forms within its very existence and vulnerability.

Mind-blowing, astounding, and inspirational, his ability to select the perfect shades of colour is as accurate as an "eyedropper tool". Making it seem effortless, his distinctive technique compliments his peculiar, yet driven and passionate persona; as he brilliantly paints his vision, transforming each model piece by piece. Born into a lifestyle that revolves around intertwining elements of creativity, spirituality and alternative living, music is also an integral part of his artistic expression.

With a high spirit and powerful creative sense, he teaches at bodypainting workshops, and exhibits his work all around the globe. His ability to touch the hearts of others and spark positivity through his art is by far one of Johannes's utmost successes.


Organizing Group: Auronet