Login
to view all events.
OM Choir at Savitri Bhavan
location_on Savitri Bhavan
access_time Every Tue @ 05:45 PM from Jul 02
visibility Published for Public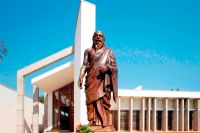 OM Choir


The voice that chants to the creator Fire,


The symbolled OM, the great assenting Word (Savitri p.310)


In 1961 the Mother gave the adesh to Narad to bring down a new music. She said that one must go far above words and bring down the pure Music. Mother told us to sit in a circle and have no preconceptions as to what we would sing but to be silent and let the music descend in us. The OM Choir aspires to bring down the New Music for the New World in a collective body. We sing only OM, the creative and effectuating Word, after starting with warming-up and voice exercises given by Narad.


Tuesdays 5.45-7.15pm


at


Savitri Bhavan


Everyone is welcome