Login
to view all events.
Chakra Guided Dance with Vera at Vérité
access_time Every Thu @ 05:00 PM from Jul 04
visibility Published for Public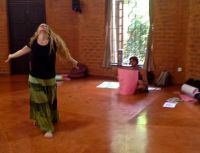 Chakra Guided Dance with Vera
Every Thursday from 5 to 6.30 pm

You will be guided on a journey in which you will learn to use your beautiful voice with bija mantras and visualizations, and dance through all the chakras. Strengthen the connection between your body, mind, soul and energy/spirit body, while cleansing, opening and balancing the chakras in the process.


Vera, who has been immersed in the study and practice of sound healing for 11 years, looks forward to sharing this and more with you!