Login
to view all events.
Somatic Movement Intensive with Maggie at Vérité
access_time Jul 19, Fri @ 09:30 AM
visibility Published for Public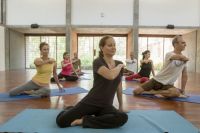 Neuro-muscular Re-education (mind-body training) in the tradition of Thomas Hanna. Somatics is a system of slow, mindful movement. It improves the function of the nervous system, creating more ease and freedom within ourselves.


Somatics teaches us to recognise and release holding patterns, resulting from pain, injury, stress or habituated posture. This work enhances any kind or exercise such as a yoga, dance, sport or just moving through life. You will also learn a daily practice in order to maintain better flexibility, coordination, balance and wellness, resulting in a decrease of aches and pains commonly attributed to stress, injury and ageing.


Maggie is a professionally trained Somatic Movement Educator and offers workshops, classes and clinical sessions in highly effective technique.