Login
to view all events.
Laughing Yoga & Breath Work Meditation with Nikhil at Vérité
access_time Every Tue @ 03:00 PM from Oct 01
visibility Published for Public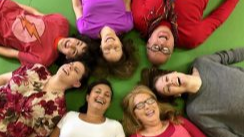 Stress and shallow breathing can be the root cause of many diseases. The opposite is deep breathing & belly laughing, which bring in more oxygen, make blood alkaline and increase body immunity. They also provide a sustainable source of "natural highs". In a group setting, using childlike playfulness, laughing becomes fun and contagious!


Nikhil Thapar is a certified Yoga teacher from Sivananda 200 RYS, madhurai,india and trained hatha yoga teacher. He have been conducting Yoga & Meditation sessions (hatha yoga, laughter yoga,music meditations, chantings, pranayama etc) in Europe - Poland (krakow), Bulgaria(sofia, plovidv and varna), the Netherlands (utrecht), Thailand & Russia) for last 2 years & earlier in Dharamshala, bhagsu, India for about 5 years, both drop-ins and also been assisting in the 200 RYS Yoga Alliance Teacher Training Programs (creating new Yoga Teachers) with Bhagsu Yoga Institute, headed by Om Shankar Yogi. Currently living nearby Auroville.
Organizing Group: Verite
Phone: 04132622045
Email: programming@verite.in