Login
to view all events.
'An Introduction to Integral Yoga' - Workshop at Savitri Bhavan
location_on Savitri Bhavan
access_time Every Tue @ 09:00 AM from Aug 07
visibility Published for Public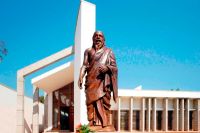 The Integral Yoga


of


Sri Aurobindo and the Mother


'It is the old methods of yoga which demand silence and solitude. The yoga of tomorrow is to find the divine in work and in relation with the world.' - The Mother


An Inner-Work-Workshop Every Tuesday


Introduction to the Integral Yoga


led by Ashesh Joshi


at


Savitri Bhavan


Every Tudesday, 9am to 12 noon


General Features


Overview with Multimedia Presentation
Question and Answers
Practice in Daily Life
Introduction to the Reference Books
Life Story of Sri Aurobindo and the Mother
Concentration Exercises
Each introductory workshop also highlights a new subject. Specific to the workshop. Explanations are given using various film-clips, images, charts and guided concentration.


For details, please visit: integralyoga-auroville.com


Contact: 94891 47202, 2622922


Workshop Fees: Voluntary contribution


All are welcome


Organizing Group: Savitri Bhavan