Login
to view all events.
Yoga with Olesya at Arka
access_time Every Mon, Thu, Sat @ 05:00 PM from Jan 18
visibility Published for Public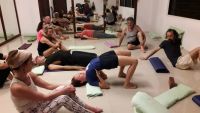 Asanas and Pranayama in B.K.S.Iyengar Tradition


Every Monday, Thursday and Saturday from 5.00 pm to 6.30 pm
at Arka - the first floor Hall


Iyengar Yoga is a form of Hatha Yoga , it works wonders with your Body, Breath and Mind through your observation, awareness and alignment in different postures, conditions.


Drop-in classes


All are welcome!


Contribution is expected


For more information: olesya@auroville.org.in or whats app +91-915-905-2743