Login
to view all events.
Iyangar yoga -Drop in- with Delphine
access_time Every Fri @ 07:30 AM from Sep 06
visibility Published for Public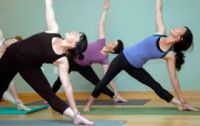 Asanas - Drop in- all levels with Delphine D
Every Friday from 07.30 to 09.00 am
Yoga practiced in the style of BKS Iyengar is a very methodical approach, done with a lot of precision, using alignment principles, props and therapeutic applications. Classes are offered for four different levels of practice and those new to Iyengar should come to the drop-in classes.
Didier Galas has been practicing yoga since 2001 and he has studied Iyengar Yoga with Faeq Biria and Corine Biria in Paris for the last ten years.
Organizing Group: Pitanga - Cultural Centre
Phone: (0413) 262 2403
Email: pitanga@auroville.org.in